Sharpen your search insights
Open your eyes to a new dimension of SERP analysis that isn't focused on page ranking. To win in search, you've got to dominate the page one space. SERPsketch helps you discover the features your prospects see when they search for your brand or keywords.
Sign up for a 30-day free trial (no credit card required) and then get a 10% discount on any plan using OMGOFFER10.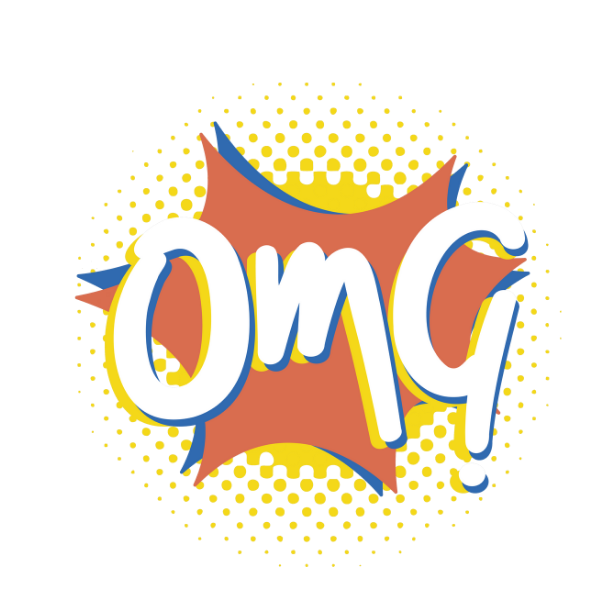 Quantify your share of page one SERPs
Open your eyes to a new dimension of SERP analysis that isn't focused on ranking. SERPsketch gives you the insights you need to outperform your competition in all aspects of the Page One SERP. Whether you want to know exactly who you're competing against or where you're most visible to your customers, use SERPsketch to identify the best opportunities for your SEO/SEM strategy.
Measure your Page One SERP performance, by share of SERP features not organic rank alone.
Takes no time at all to get insights. Get results for your own and other domains in minutes.
No hidden features and no limits on users. Add as many users as you need to your subscription at no extra charge.
Visualise and quantify what a prospective customer would see in search
SERPsketch shows you the visual layout of the Page One search results for any keyword, so you understand which features you own and which features you can work to win. It also shows you the overall SERP features for your topic clusters – once you know what results a customer sees for the terms most important to you, you can focus your marketing efforts on the upper areas of the SERP, outsmarting your competition and driving more traffic to your site.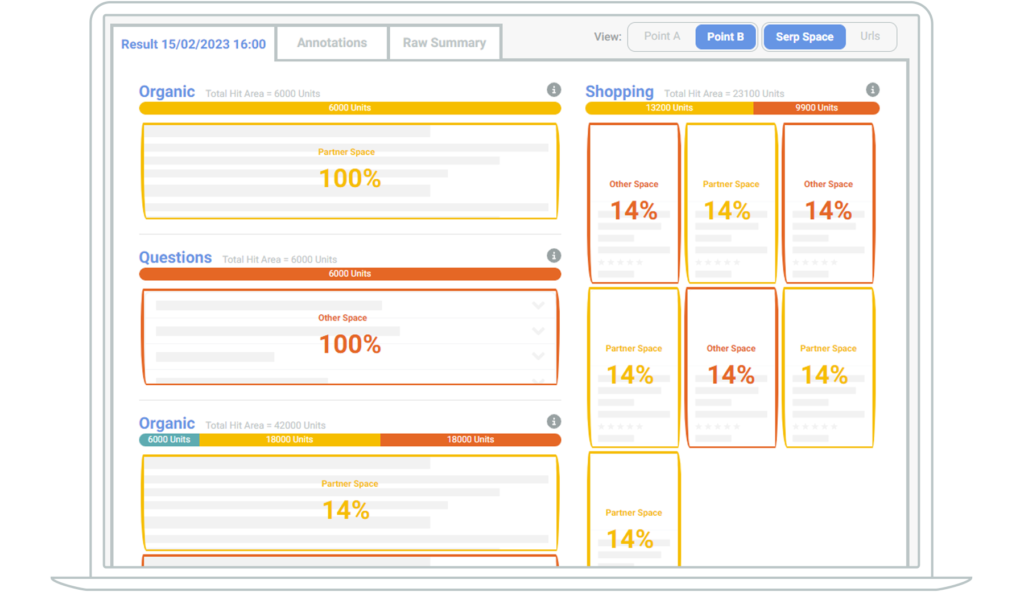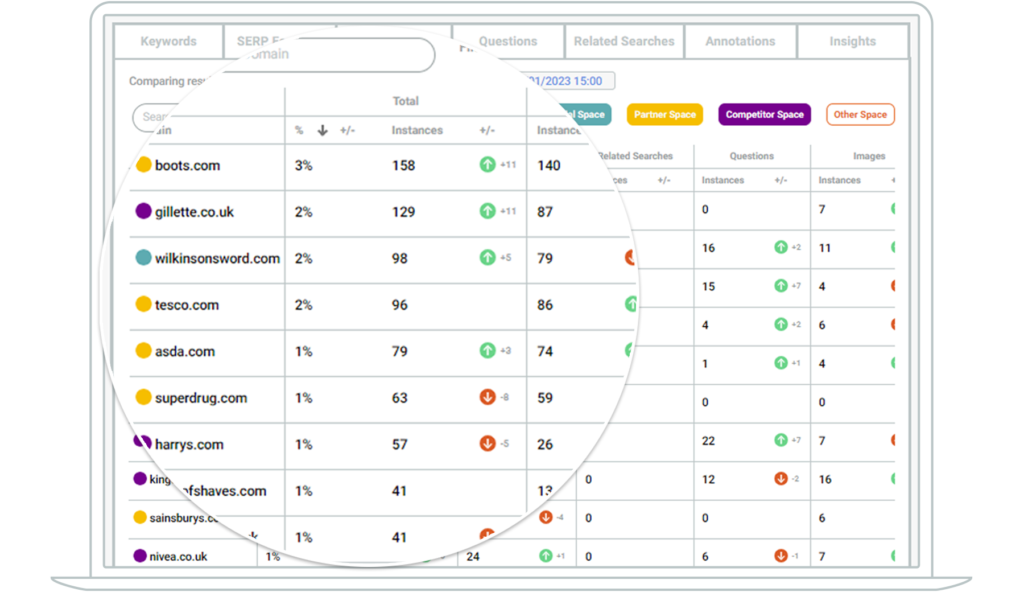 Know who you're competing against, both at the keyword and topic cluster level​
Find out who is competing against you and what you can do to outmanoeuvre them. Understand which of your competitors' pages are appearing in the SERP.
With detailed insights you can avoid taking share of the SERP from partners – or even your own business – and make sure you're focusing on winning space from your competitors.
Focus on the keywords that drive traffic to a site​​
Unlike traditional Search Visibility tools, SERPsketch focuses on the keywords (both PPC and organic) that drive traffic into a site, helping you to define where to invest and maximise your marketing efforts.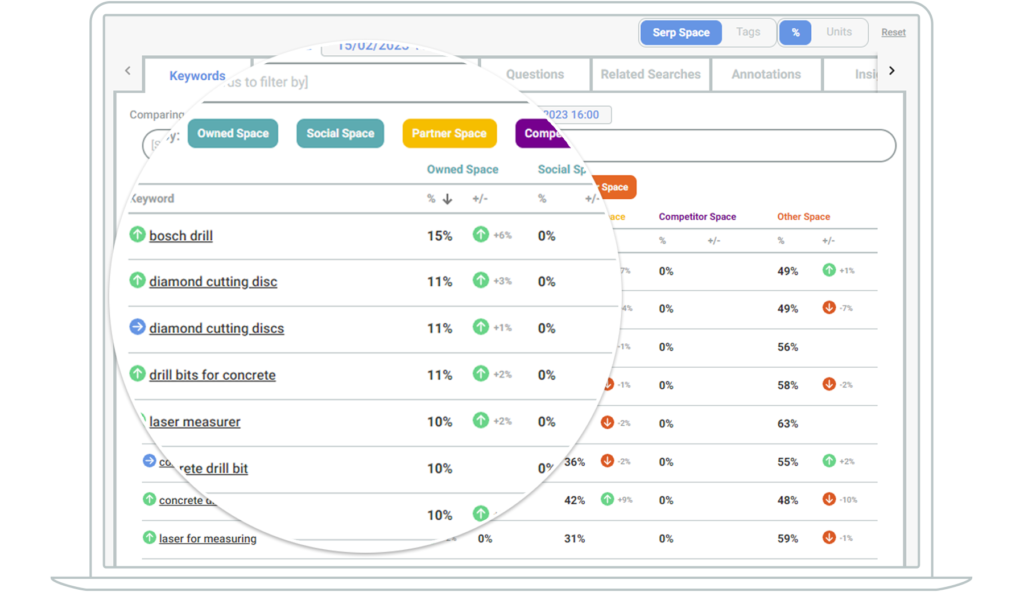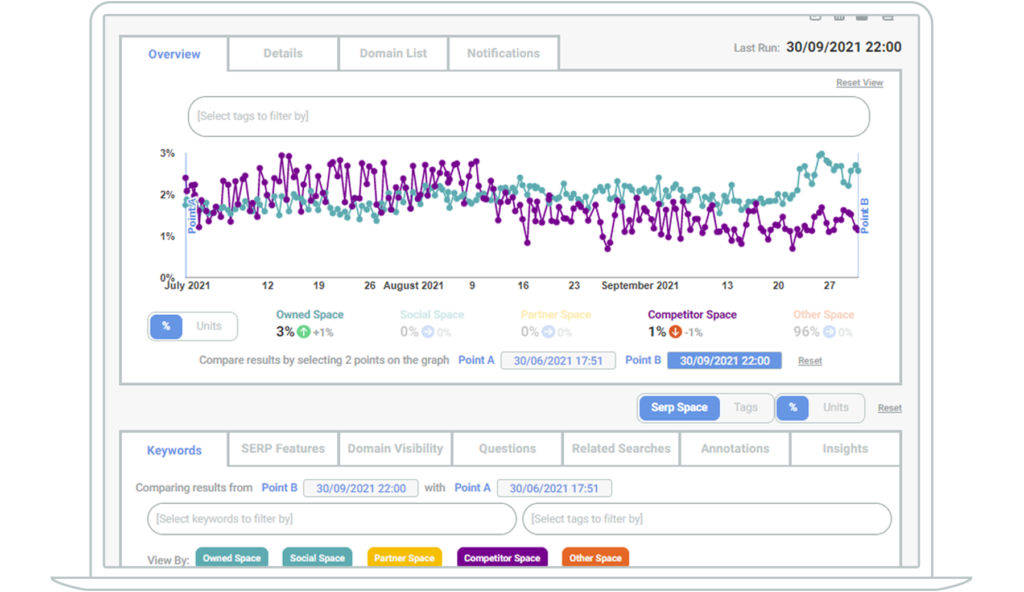 Track your share of page over time
By tracking sets of keywords over time, you monitor changes in your visibility, gain insights across multiple keyword groups to build a competitive strategy, evolve your tactics and measure the impact of your digital marketing activity.
Ask us for a demo and we'll show you SERPsketch in action using your keywords. It's quick to set up and quick to see insights.
Complete the form and we'll get in touch with some suggested dates.