Quantify your share of Page One SERPs
Open your eyes to a new dimension of SERP analysis that isn't focused on ranking – it's all about your share of Page One.
SERPsketch enables you to outperform your competition in all aspects of the Page One SERP. Whether you want to know exactly who you're competing against or where you're most visible to your customers, use SERPsketch to identify the best opportunities for your SEO/SEM strategy.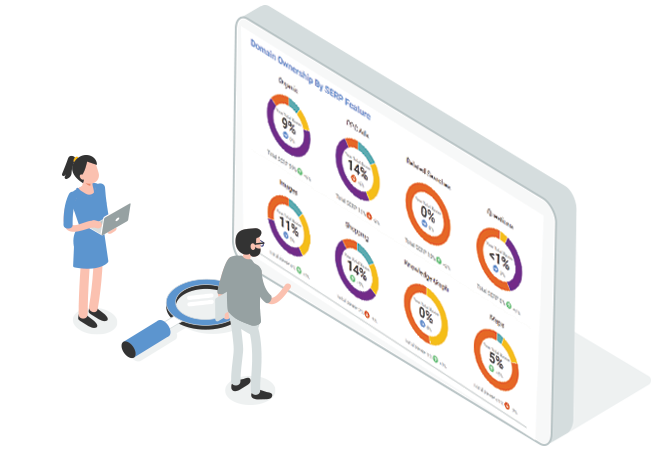 SERPsketch rebuilds a page of Google for your specific keywords, so you can clearly see both the size and type of the SERP results a customer would see – including the share of each feature shown by your owned domains, your competitors and your resellers. With this information you can build the most effective approach to SEO/SEM. You'll measure the impact of your marketing actions beyond just rankings alone.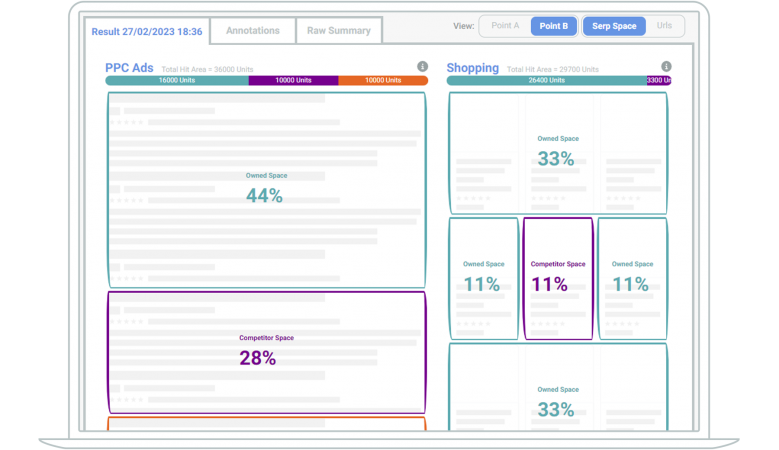 Build out your SEO/SEM strategy
Use SERPsketch to build your overall marketing strategy through a detailed understanding of what your customers see on the first page of Google. SERPsketch recreates search results to show how different channel results display. It helps you identify new opportunities beyond classic rank tracking, so you can efficiently plan where to invest your time and budgets, and monitor what your competitors are doing.
Review your overall search marketing strategy
Discover which features of the SERP display for each of your keywords and see which pages are actually displayed across a whole topic cluster. That means you can make strategic decisions on where to focus effort – and, crucially, where not to, focus effort. See how all channels impact search in one platform and plan your overall search visibility strategy.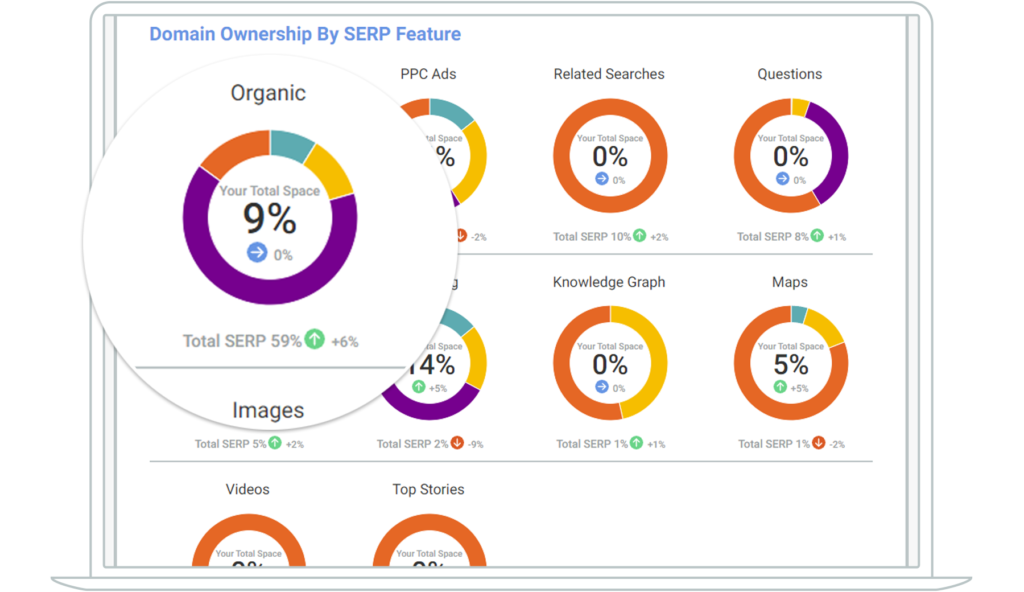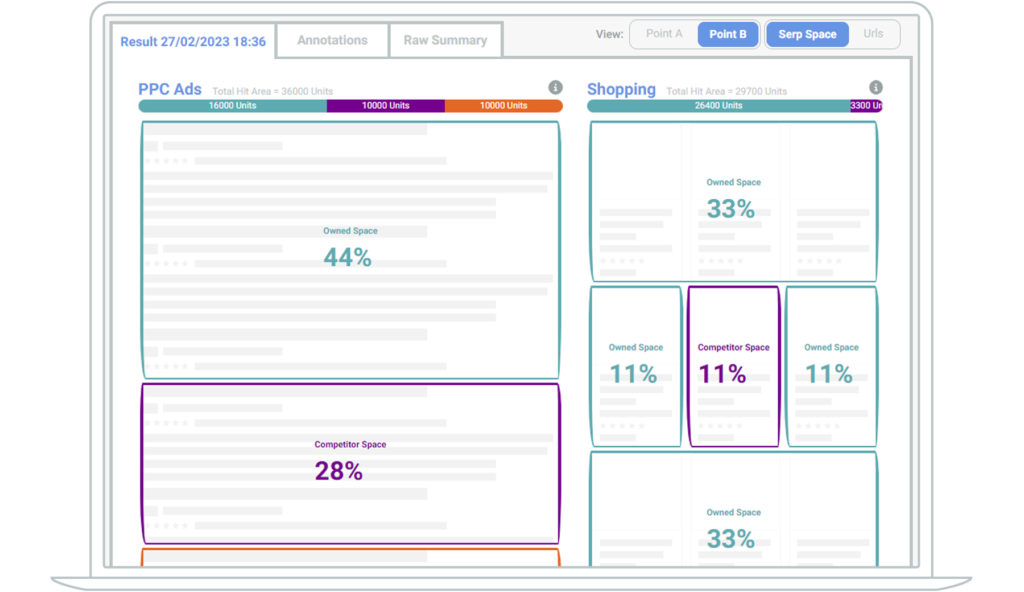 Understand how SERP features differ across keyword sets
Keywords assumed to have purchase intent display very different results to those with research intent. Uncover the exact makeup of the SERPs down to keyword level, to gain holistic insight into what your customers see when searching Google for your products and services. Build a visibility strategy around what Google already shows in the SERPs for the keywords you want to optimise for.
See who is actually competing against your brand in Google
Identify competitors in or out of  your industry that are optimising for the same keywords as you. Understand which of them are dominating SERP features.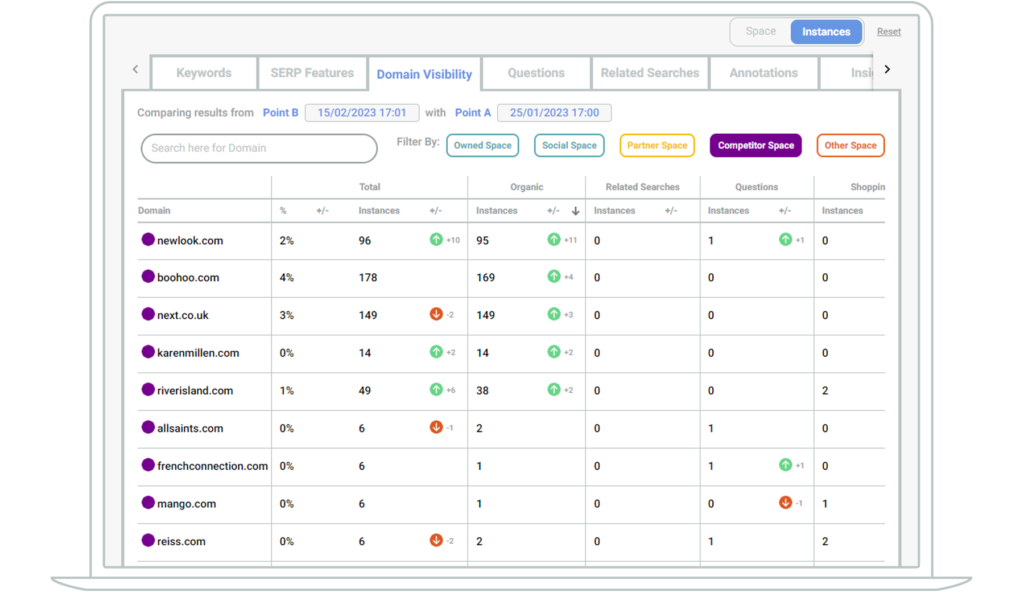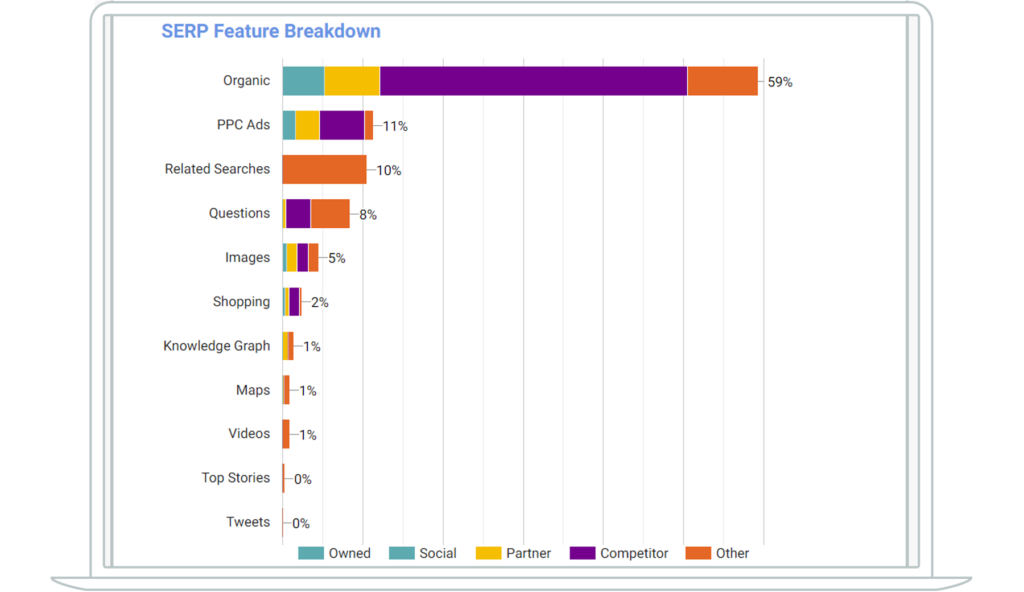 Find out which features of Google Page One your brand has space in
Discover exactly which pages are triggering which feature of Google and adjust your search marketing strategy to target those features. Analyse both your own and your competitors' results (and your resellers' too) and spot opportunities to increase your own visibility.
Secure more budget for SEO/SEM
Evidence the problem and opportunity for your brand with visual aids that help to secure buy-in from stakeholders. SERPsketch provides a complete data picture to use across all teams and channels. This cross-functional approach drives a more coherent strategy and improves value for money.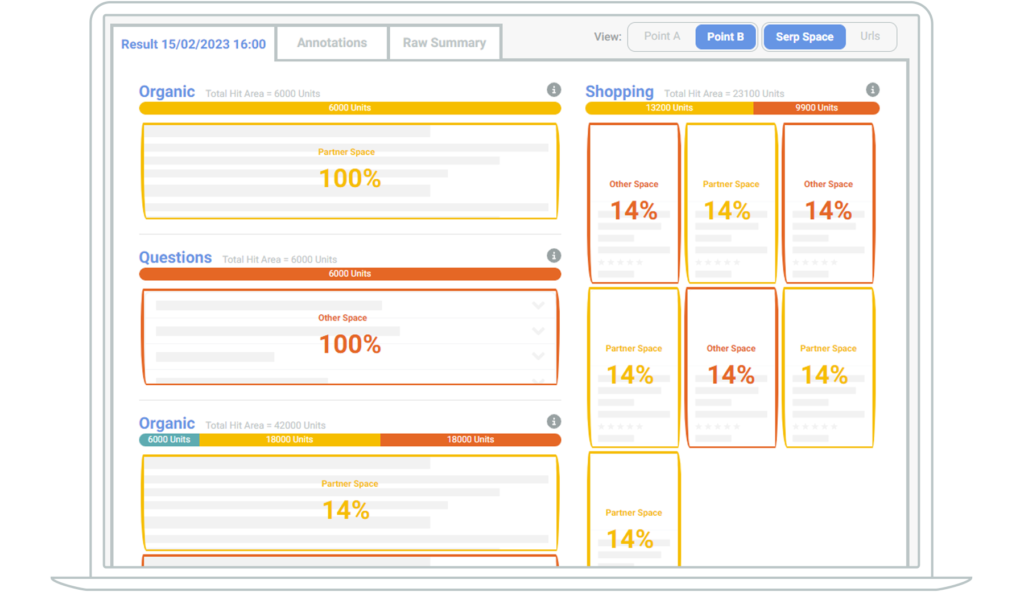 Support day-to-day digital tactics
Use SERPsketch to support your everyday tactics across SEO, PPC, and digital PR, adapting your approach depending on fluctuations in search results. By looking at the volatility of SERPs and what your competitors are doing, you can stay ahead and maximise your visibility.
Focus your SEO/SEM budget where it will make a difference
Optimise your marketing so it's visible in the features of Google that actually appear when customers look for your products and services. It's no longer enough to focus on ranking number one in organic search. Take action to own strategically important, or most visible areas of the search results.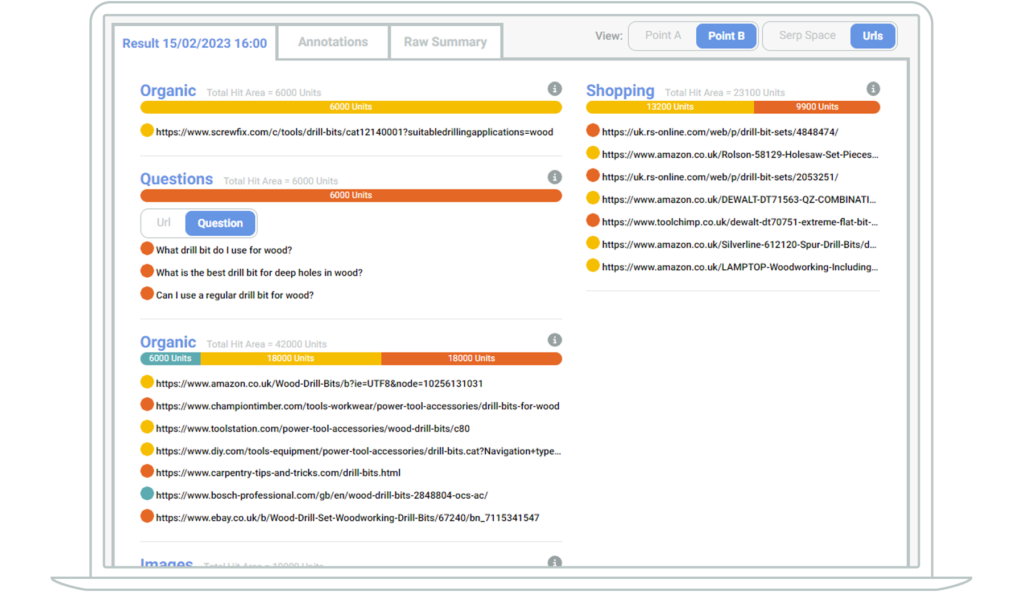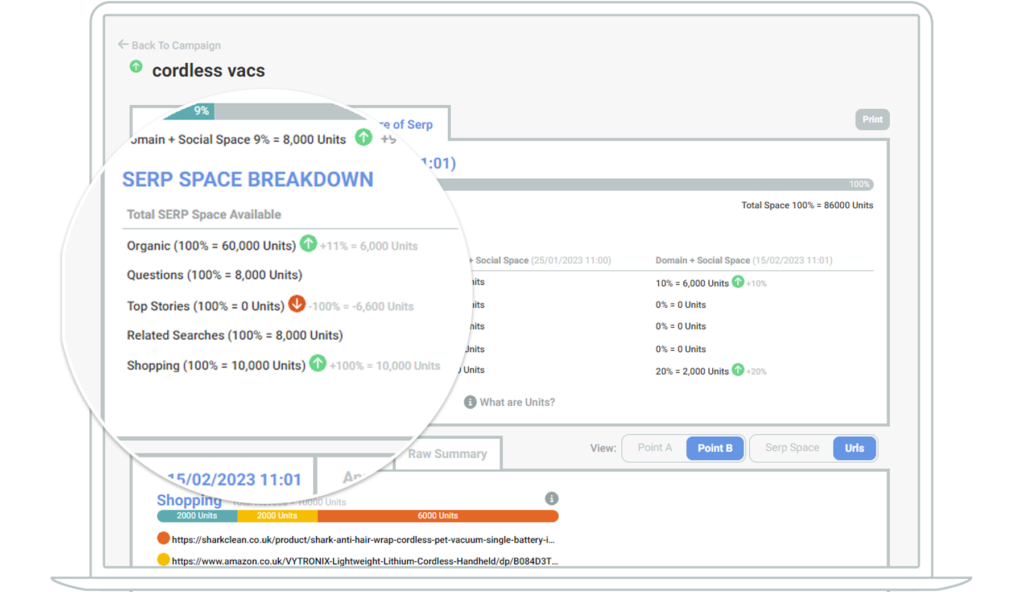 Adapt your SEO/SEM activity so you're not wasting time and budget
Tactically adapt your PPC activity to reduce spend in searches where you already have a strong organic presence or your competition is not present. Switch your organic focus to search terms where organic listings have the highest prominence. SERPsketch lets you see how changes in one channel could be the cause of a performance change in another.
Identify how brand and reseller channels are working together
Spot where your reseller partners are competing for the same traffic as you, then work together to avoid cannibalising each other's efforts. Identify whether your channel partners are promoting your products or those of your competitors and find gaps where you and your reseller channel could earn more visibility for your brand.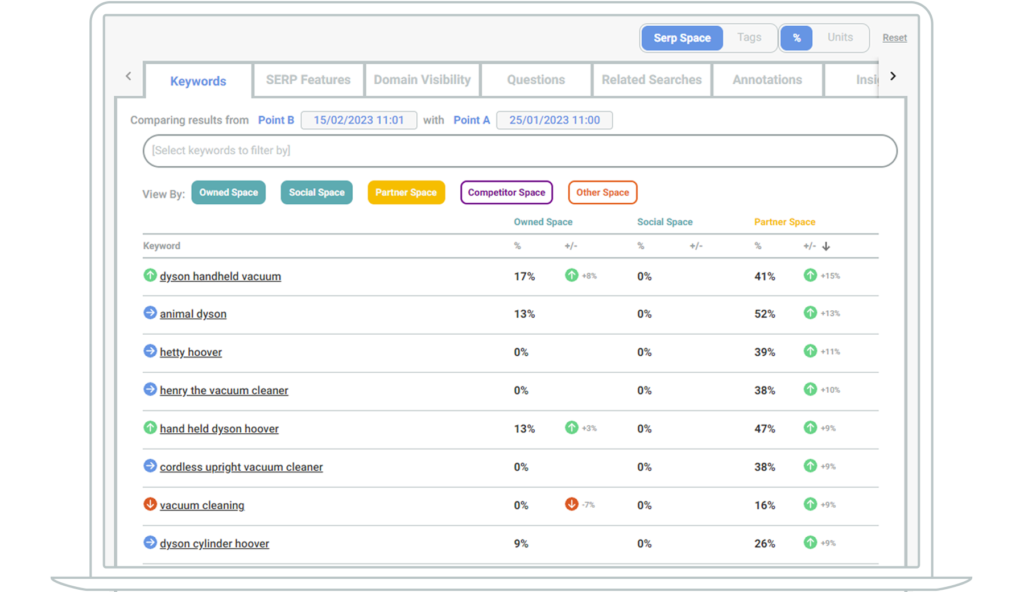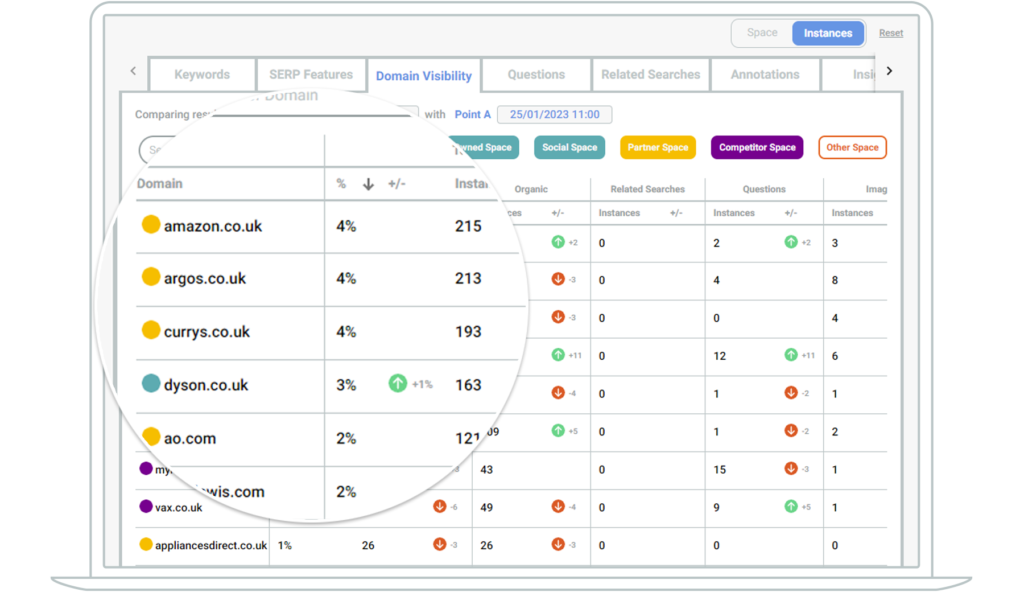 Learn which sites appear most across an entire keyword set for a particular SERP feature
See which pages appear most often across a keyword set and which feature of Google that particular URL is triggered for. Use this to find your most valuable pages across a keyword set or to analyse a competitor's most valuable pages and take action to replace them with yours.
Find every question that's been asked in a keyword set
See how many times a question has appeared in the People Also Asked feature, which keywords triggered the question and which URLs Google featured. Use this to evidence the need for structured data or to build high quality landing pages relevant to your most important keywords.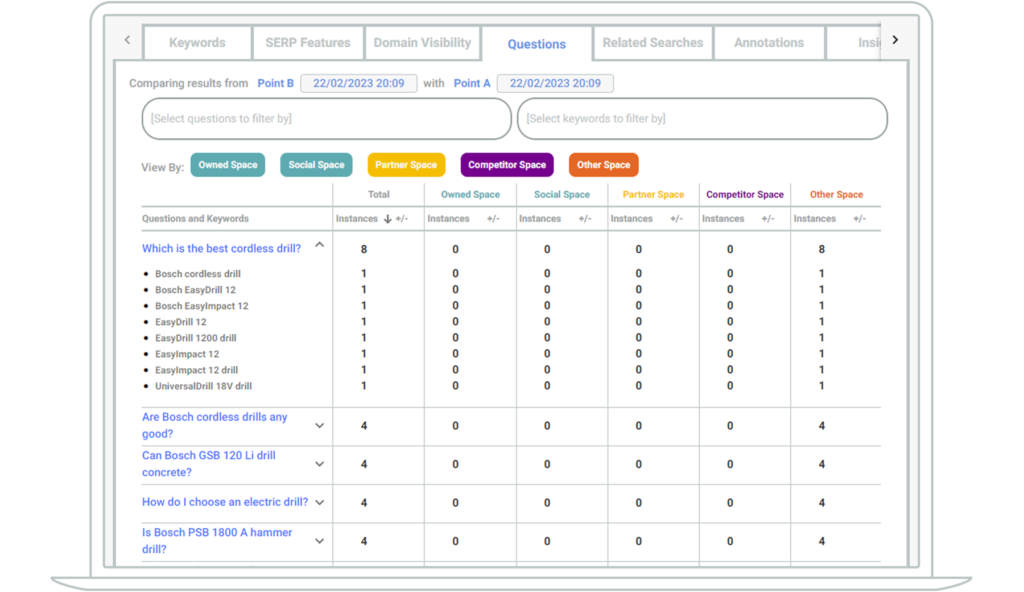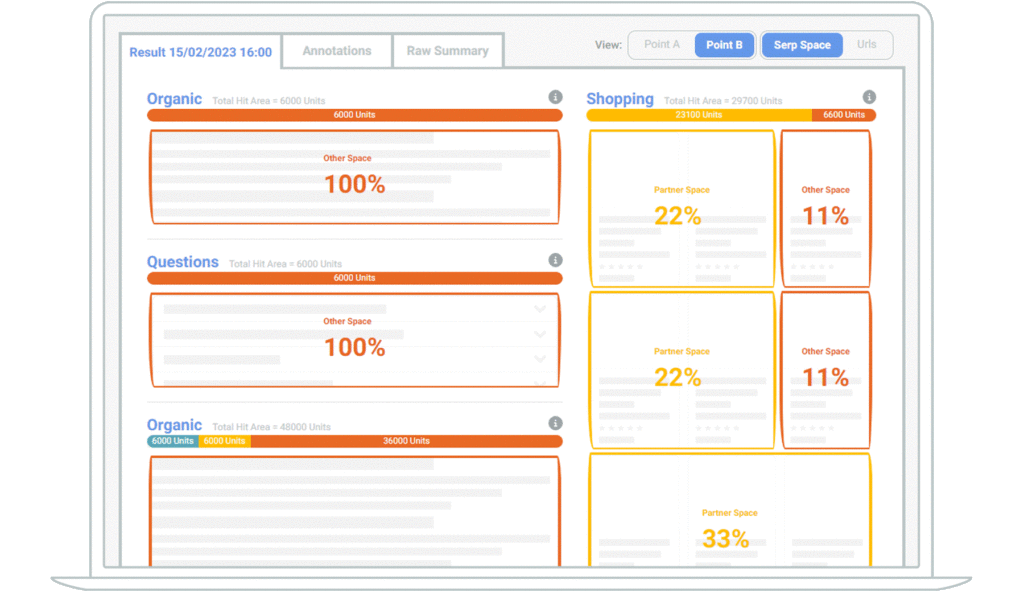 Increase the volume of high-quality traffic to your website
Discover which features of the SERP are present at the top of the results pages for your keywords, or those that are taking up the biggest share of space. See exactly who is beating you to the top spots, so you can take action to outperform them.
Understand and take action on SERP volatility
Use SERPsketch to spot drops in search visibility, and use the insights to take action on recovering that visibility. Understand volatility at both SERP feature and SERP competition levels. Seeing exactly what happens in Google by time of day and day of week is useful for adjusting tactics around peak events. Discover whether site traffic peaks are due to fluctuations in SERPs and rankings for key search terms.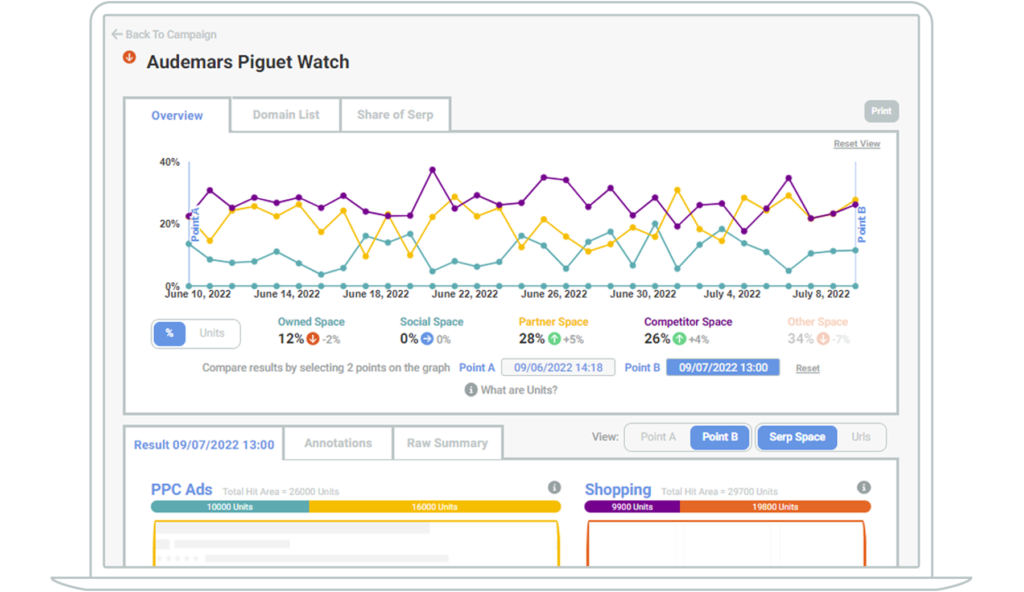 Measure your performance in SERPs across all features of Google
Use SERPsketch to measure your performance in all the SERP features of Google. Measure the effectiveness of investment in structured data and partnerships with other brands or resellers. Or measure how your changes to PPC strategy affect overall visibility. Track exactly how much of Page One of Google search results you own, and monitor changes over time, to see the impact of your work on your total search market share.
Measure a brand's share of space
See exactly how much of the SERP you occupy across a keyword set, with results broken down to show which features of the results page you are visible in. SERPsketch shows every domain that has appeared across a keyword set, making search competitor analysis quick and easy. The visualisation lets you see your share of Page One over time, so you can track increases in that share and compare them to your chosen tactics.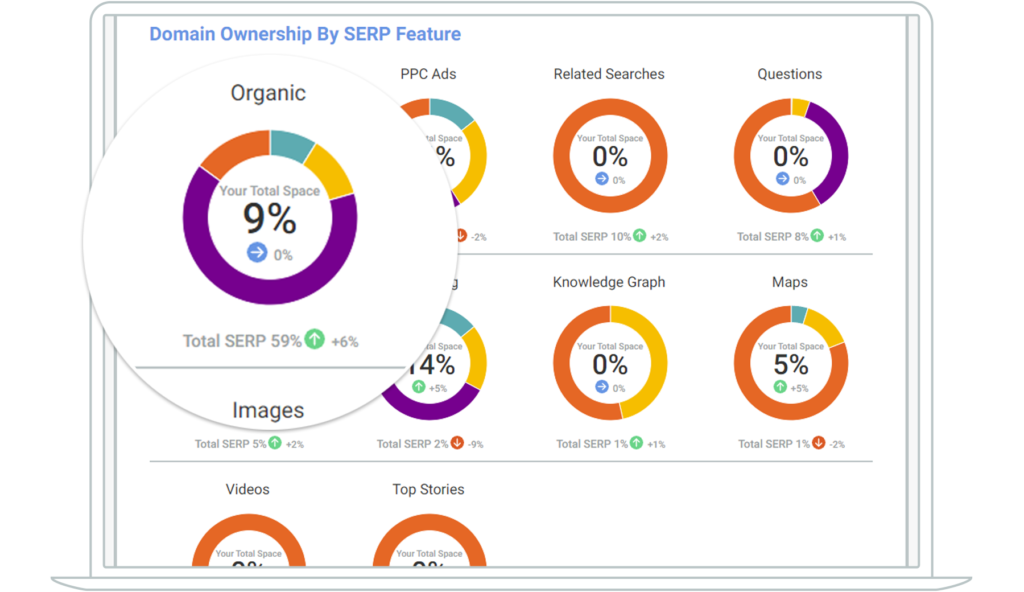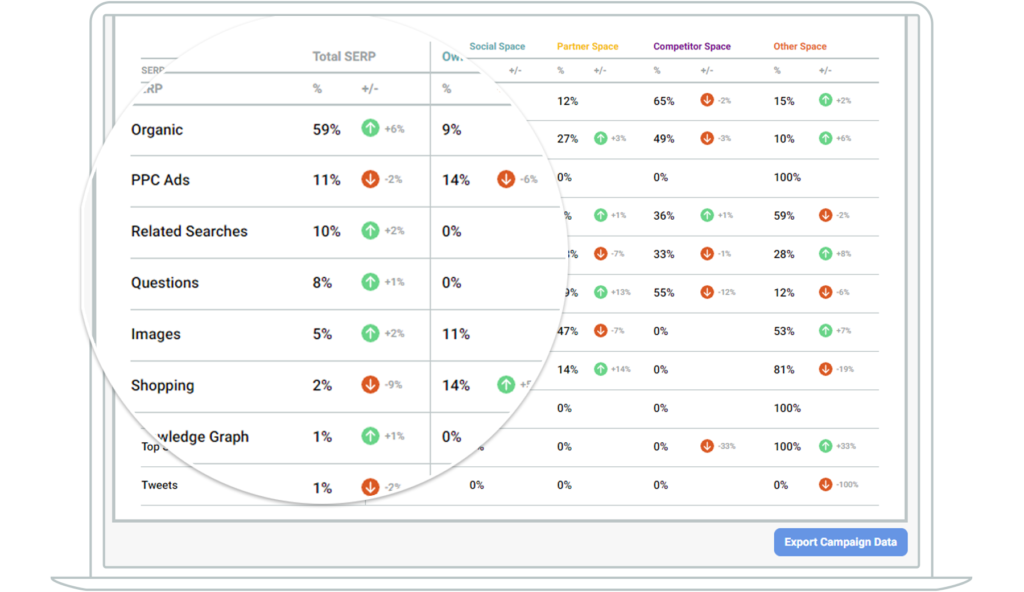 Measure and optimise your search marketing across all features of Google
Even if you're ranking higher organically every month, that's irrelevant unless you are showing up in the features that Google is actually displaying on a SERP. Prove your successes with visual ways to measure an increase in your visibility across Page One of Google for the keywords you care about most. Count the different features appearing within the results.
Visualise the complex SERP landscape for those less familiar with SEO/SEM
See exactly which features of Google have been triggered, down to keyword level and identify exactly who you're competing against for that visibility. SERPsketch graphs and charts are designed to make SEM as easy to understand as possible. SERPsketch focuses on the thing that matters most – Page One of Google.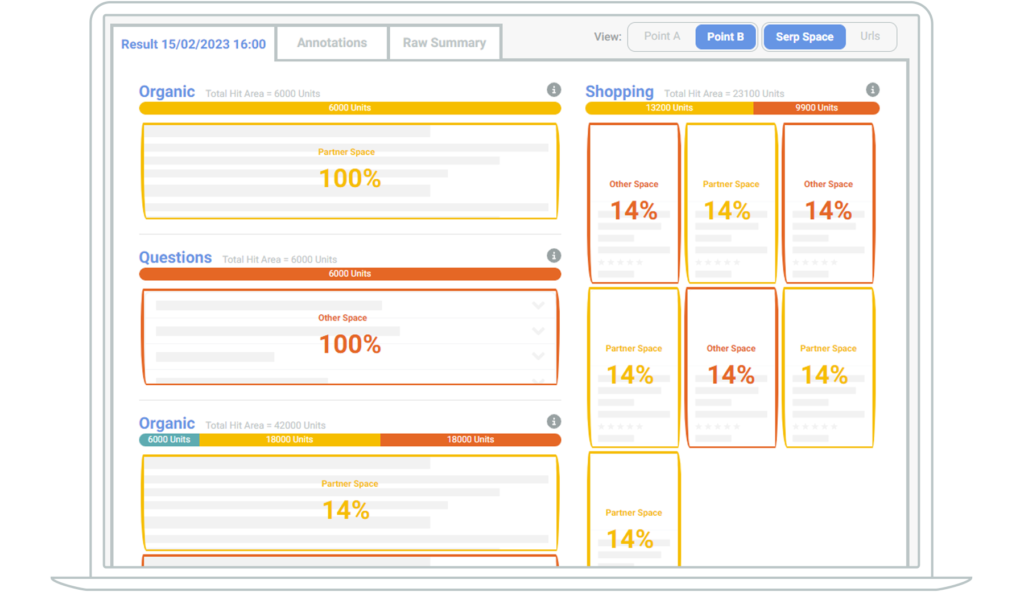 Check single keywords for a quick one-off snapshot of the related SERP.
Manage whole topic cluster keyword sets in individual campaign sketches.
Schedule campaigns to run daily, weekly or monthly and at specific times of day.
See what features of Google dominate the Page One SERP space, colour coded by owned, social, partner, competitor and other space.
See how visible you are and the breakdown of your visibility down to  keyword level.
Get insights direct to your inbox showing important changes in the SERP such as competitors gaining share of space.
Export visualisations, data and reports to share with others or to incorporate into performance reports.
Want to understand the SERP for a particular country or city? Choose when setting up your sketch.
Want to see the SERP for desktop, tablet or mobile? Set up your keywords for one device and easily duplicate it for others.
Hundreds or thousands of keywords to track? Use CSV import functionality to easily add them and group them by tags too.
See a full list of all domains appearing on Page One of the Google SERP for all of your keywords or for each one individually.
Everyone gets everything with SERPsketch. Subscription plans are based on keyword volumes and frequency of sketches. You can add as many users to your subscription as you require (for no extra charge).