In this blog we'll walk you through the admin aspects of SERPsketch for when you are the owner of a subscription.
As every SERPsketch user gets the same product functionality, the only differences between the types of users are the ability to manage the account settings and the subscription billing.
We have three types of users:
Owner: Full control and access. Admin and billing user. Can invite and manage users, and create and view sketches.
Manager: Can do everything the Owner can do except for billing management.
User: Can create and view sketches but cannot manage users or billing.
Accessing SERPsketch settings
To view the settings for your subscription you use the link in the top right of the app that says Welcome back.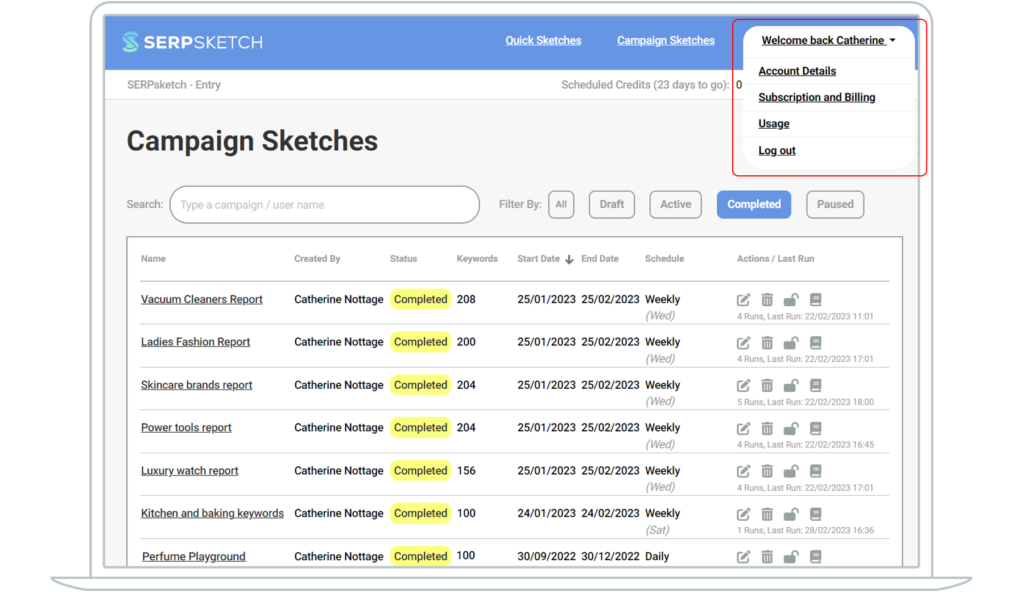 From here you can go into your Account Details. This will show you your information account information and beneath that your billing information.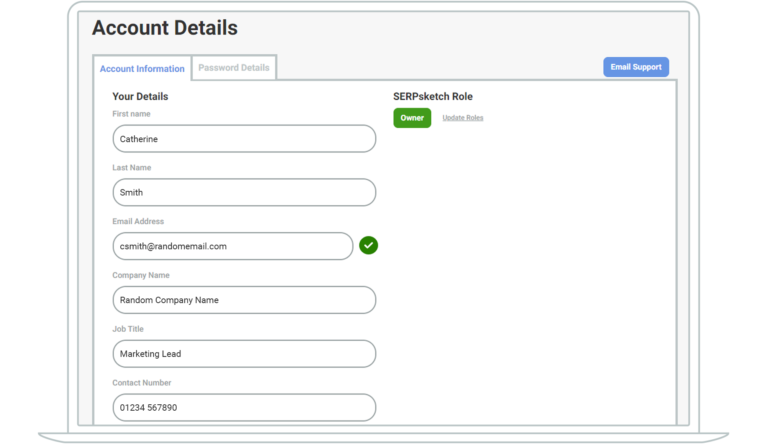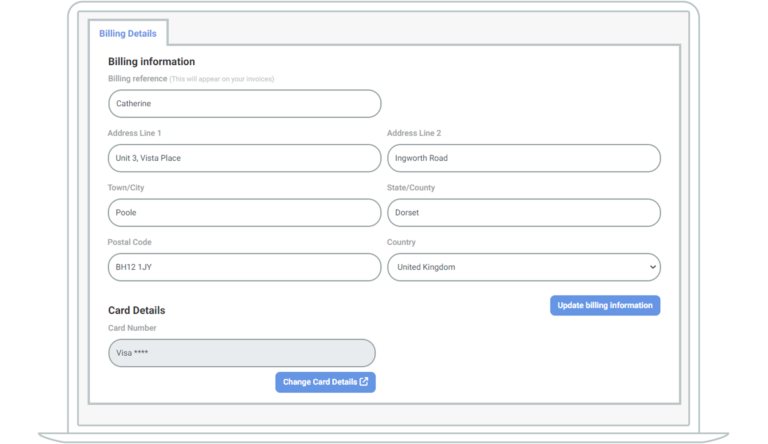 Note, should you need to change your card details, you'll be transferred to our payment system Stripe. Stripe is a certified PCI Service Provider Level 1 which is the most stringent level of certification available in the payments industry.
On the same Account Details page you can click on the Password Details tab to change your password should you require.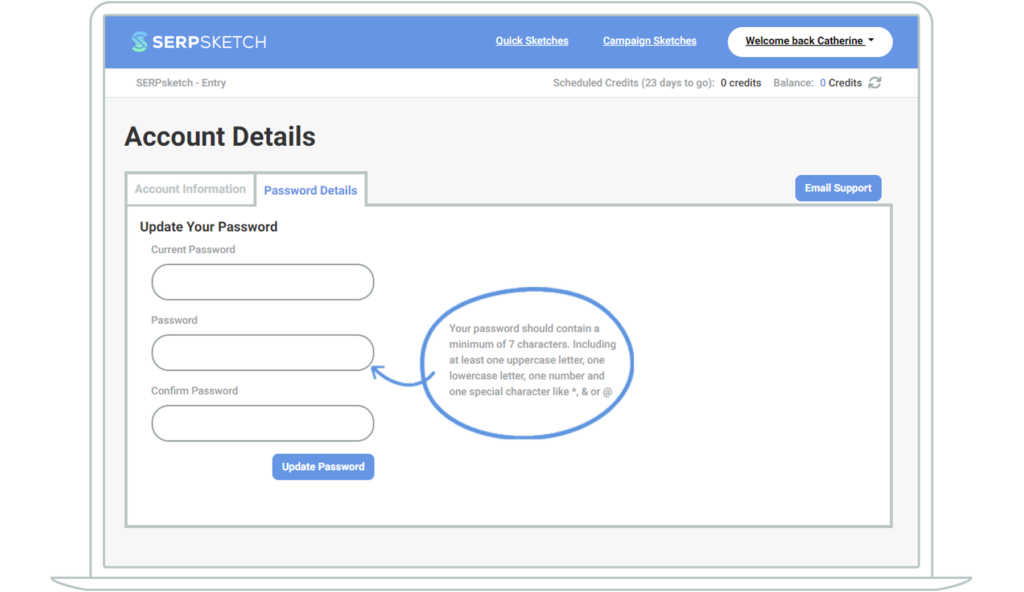 From this same Account Details page, you can contact Support using the Email Support button. That will take you do a Contact form where you can specify your issue.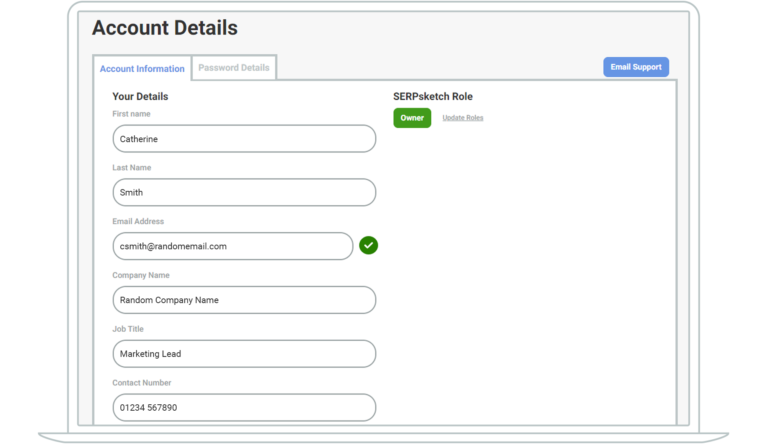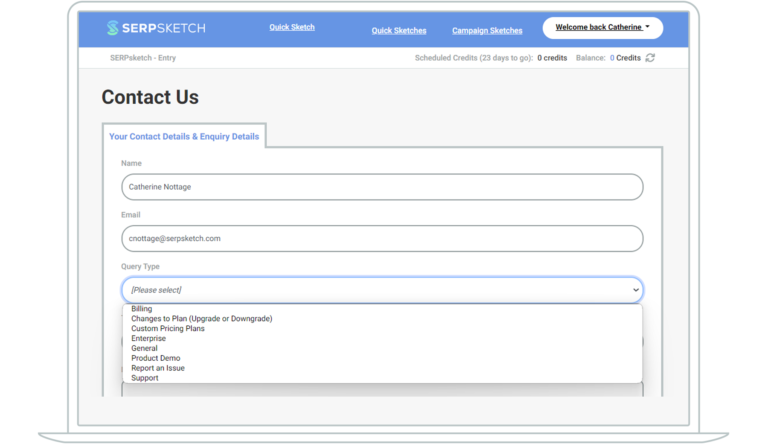 From the top right navigation (under "Welcome back"), the next option is Subscription and Billing.
From here you can view the Subscriptions you have in SERPsketch. Note: it is possible to have more than one subscription on your Account. The reason for this is some specialists working on multiple brands prefer to keep each client's work in separate subscriptions with separate user access. User access is set by Subscription and not by Campaigns.
Under the "Actions" button, you can see other things that help you to manage your account.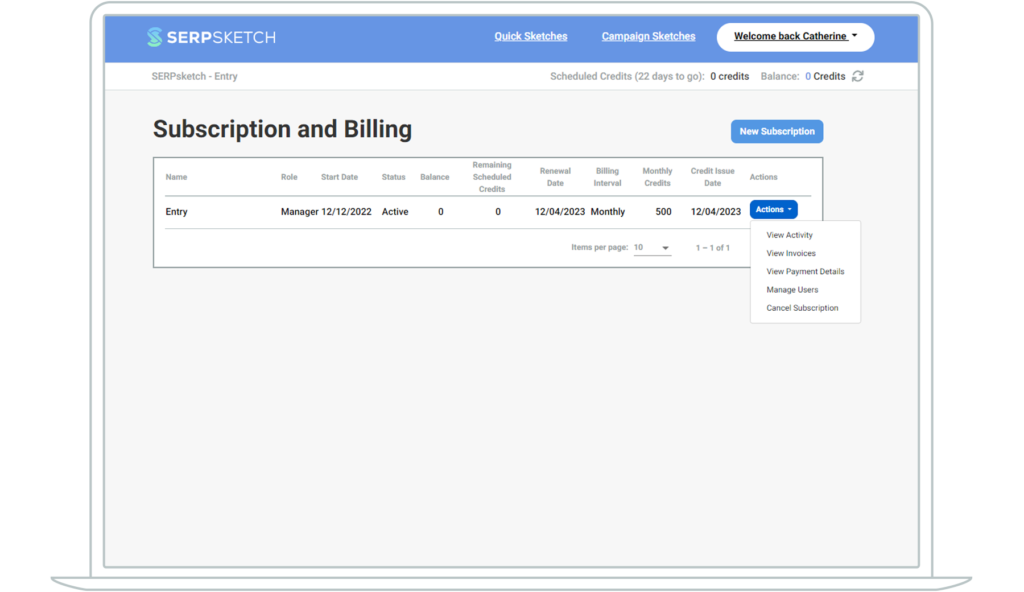 The activity page shows you what's happened within your subscription. Against specific dates and times it will show you when sketches have run, when your subscription has renewed or credits have expired.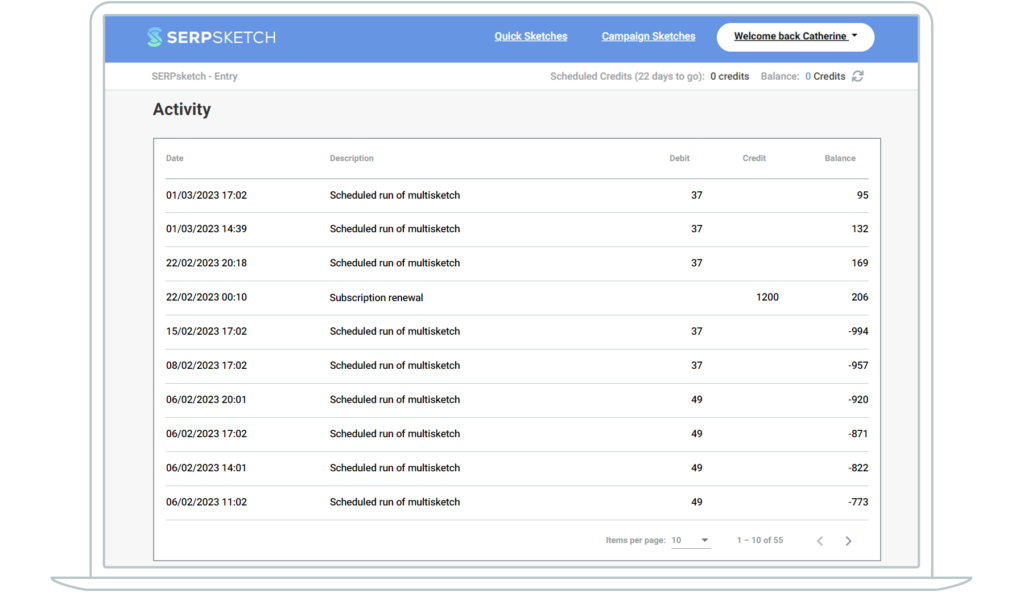 You can access your invoices under the Actions drop down as well. Note that when you click "View invoice" you'll be redirected to a Stripe page.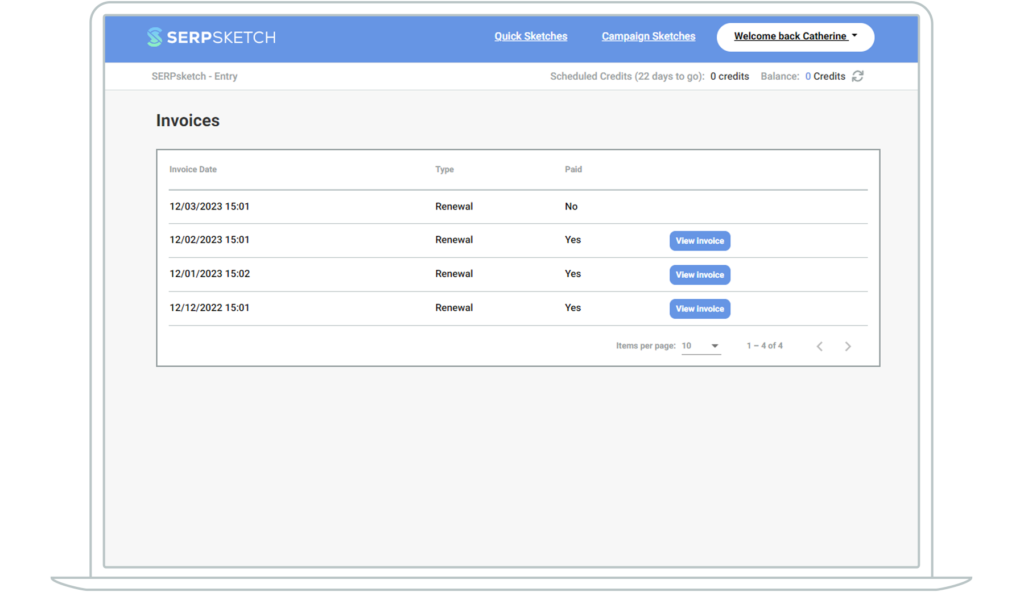 Your payment details are also available under the Actions drop down (as well as on the Account Details page).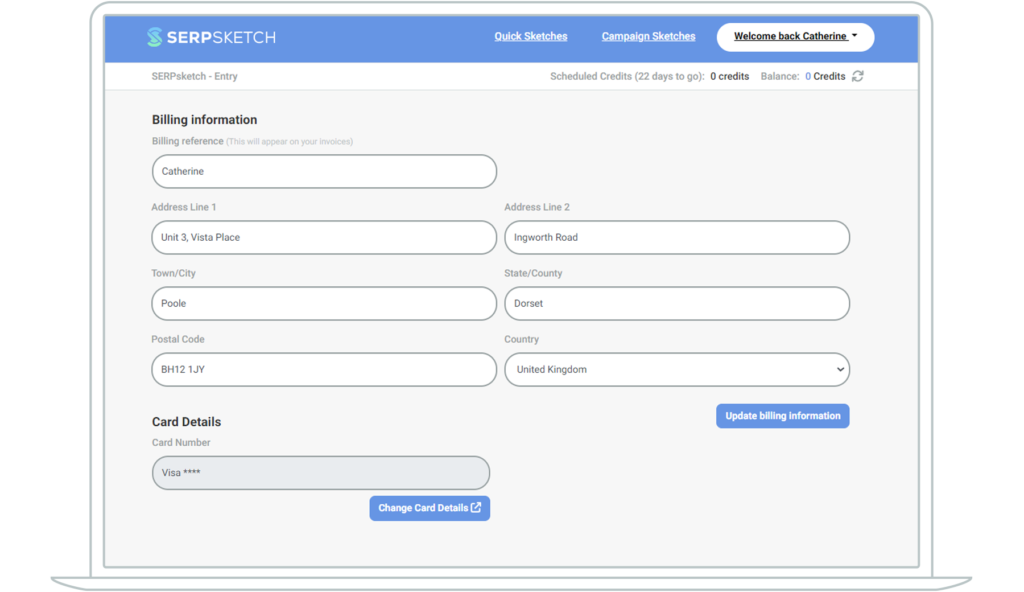 You can easily view the users on your subscription or add new users via the "Manage users" link under the Actions drop down.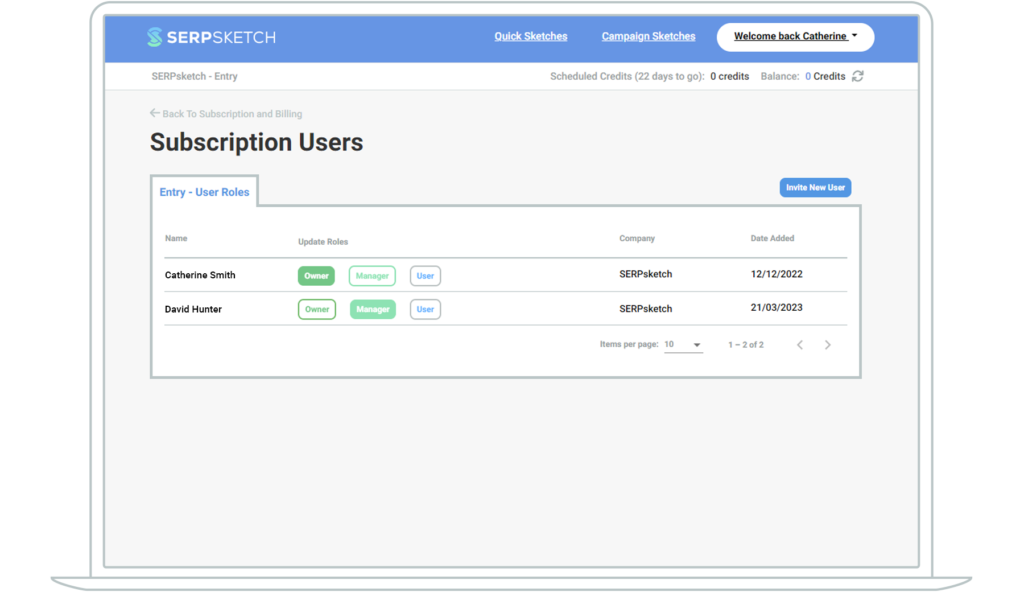 It's easy to invite new users to your account. You simply click Invite new user and then add their email and set their role type.

The role types allow different levels of access:
Owner: has full access and can manage all admin including billing
Manager: has the same access as the Owner role except no access to billing details
User: can use all aspects of the SERPsketch app but is cannot add or manage users and cannot access other admin aspects on the subscription

When a new user is added to your subscription, they will receive an email notifying them to sign up for SERPsketch.
Finally, from the top right Welcome drop down, you can also view your usage of SERPsketch over time. It will show your daily credit usage over each monthly period since you first took out the subscription.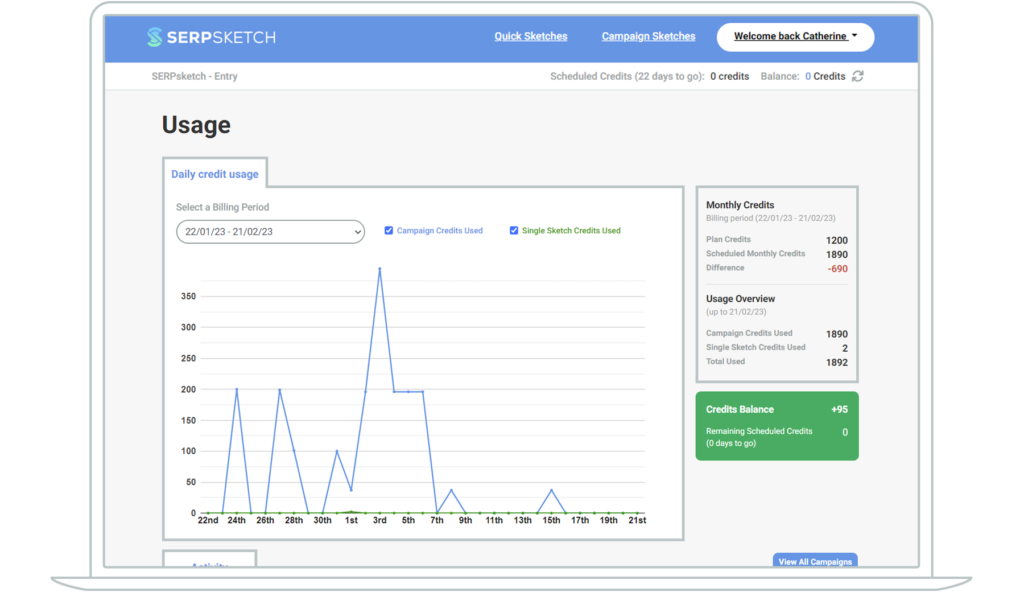 You can also see list of your activity. All of the various sketches that you might have run and how many credits they used.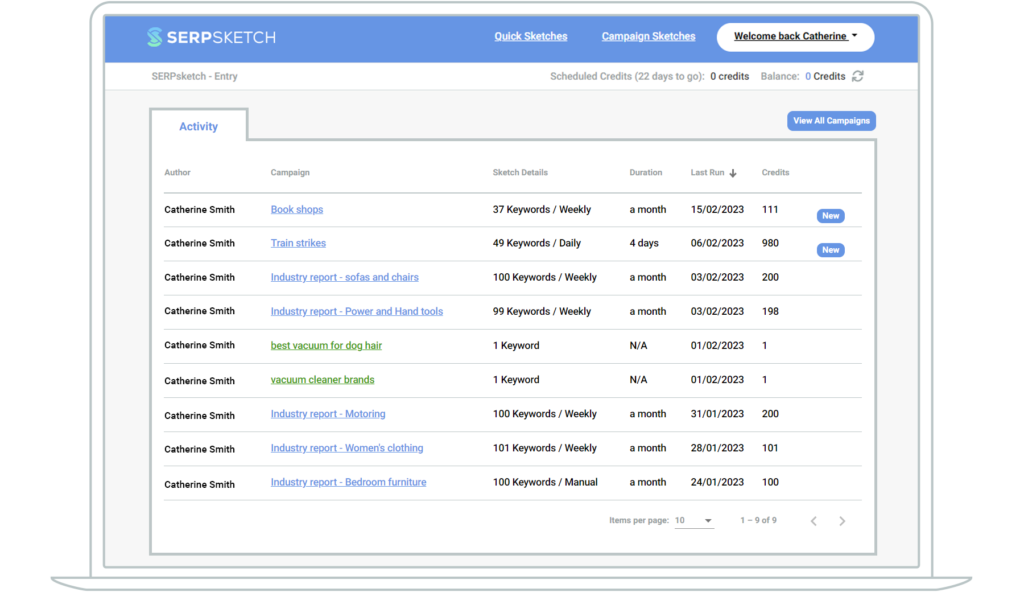 That concludes our brief overview of managing your SERPsketch account. If you have any questions about using SERPsketch, you can contact us and we'll be happy to help.