The SEO software space is pretty saturated with lots of different products. SEO experts take their pick of tools to use for their desired purposes. Perhaps a preferred one for keyword planning, one for technical SEO, one for link research, one for rank tracking.
It's not uncommon for SEO teams to make use of two, three, four or more tools, providing insights and analysis to shape the direction of an SEO strategy. So, how does SERPsketch fit into the mix?
SERPsketch is laser-focused on one aspect of SEO and that's Page One. Where other SEO tools are engineered around rank tracking, SERPsketch is not. SERPsketch is all about share of page one: your share, your competitors' share, your partners' share and any other domains competing for the same space as you. Page one is the most important page in search results and SERPsketch page one insights help you prioritize the channels to engage for efficient, cost effective success.
Backlinko's CTR stats research indicates that only 0.63% of Google searchers clicked on something from page two. Page one really ought to be the main focus for brands who want to win traffic or brand engagement. Even if you get onto page one, or better still rank in organic position one, does that guarantee more traffic? Not necessarily. The SERP for your keyword might put organic results below the fold. Perhaps there are other Google features taking up real estate at the top of the page that are distracting your prospective customers. Perhaps a competitor owns several features on the page, bringing the focus of the customer to them.
And let's face it, anyone can get on page one using Ads – so long as they've got the right money. 
SEO today is more than ranking position. Until you understand the make up of a SERP and the features being displayed on it, you could be wasting effort and budget focusing solely on achieving #1 in organic.
Adding SERPsketch to your toolkit
SERPsketch is not a means to report on long term, broad SEO rankings. Instead it enables you to quantify:
1. The SERP for each of your keywords
You visualise the space owned by your owned domains, your competitors, partners and others who share that Page One space. SERPsketch reconstructs the page with an estimated percentage share of space, but also allows you to drill down to view the exact URLs Google would display at that moment in time.
So instead of taking painstaking steps to open an incognito window, Google each keyword yourself and estimate by eye how much of the page your brand dominates, SERPsketch does that across your entire keyword set in just a few minutes.
Here's an example of a sketch visualisation using the keyword "Cheap flights" and using cheapflights.co.uk as the owned domain. This is just the top half of the SERP.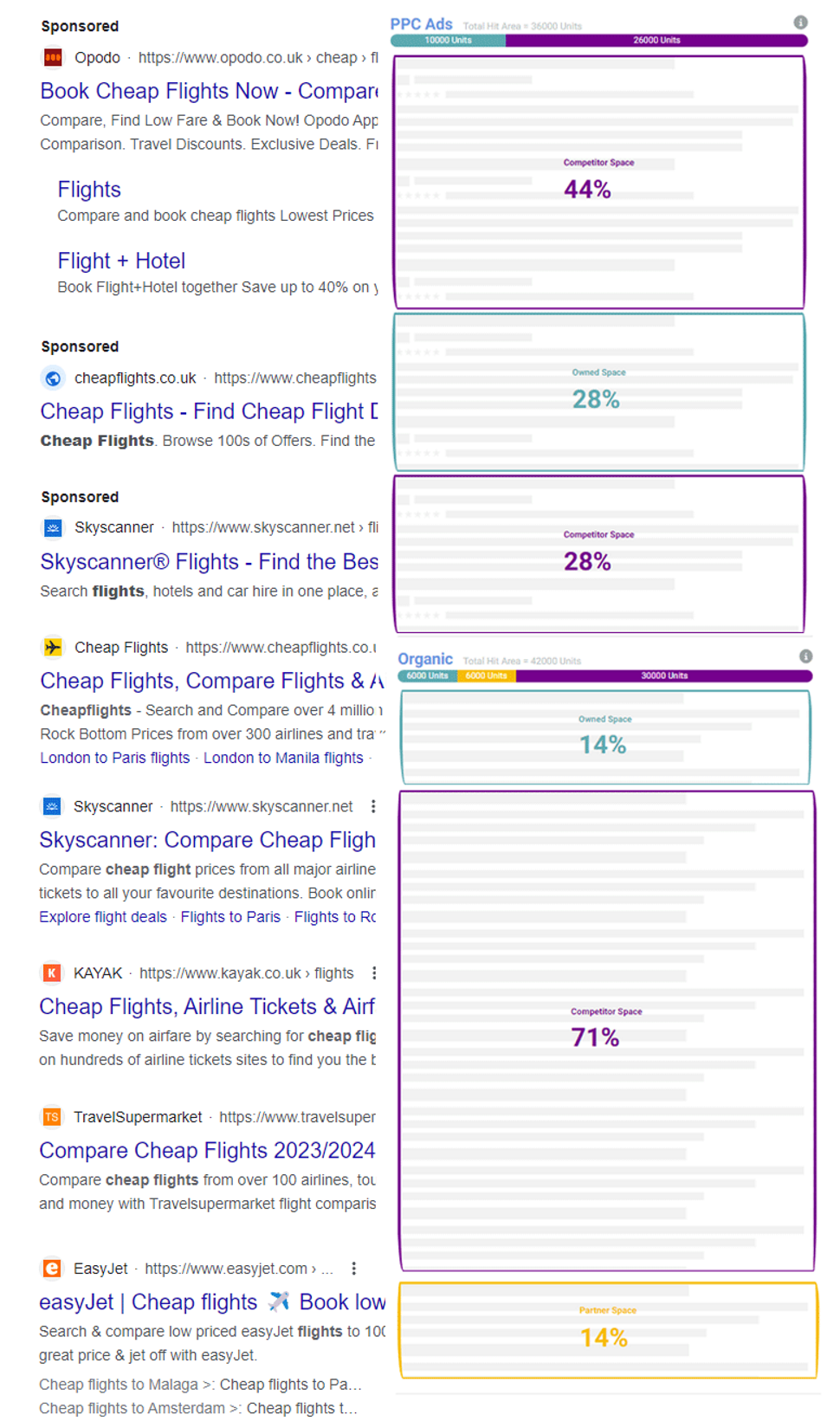 2. The SERP features that dominate
SERPsketch provides more detailed information about the most common features to be served for your keyword set, enabling you identify, for example, whether "People Also Asked" questions take up a significant amount of space that you might be missing out on. It identifies the space you own within each feature too.
Using this data you can quickly determine where you might grow your share of page one.
Here's an example of the doughnut charts within SERPsketch showing SERP features. Taking the first one, it shows that Organic results make up 59% of the SERP and that the owned space is 9% of that. It shows that Ads and Shopping combined make up 28% of the SERP which is quite significant.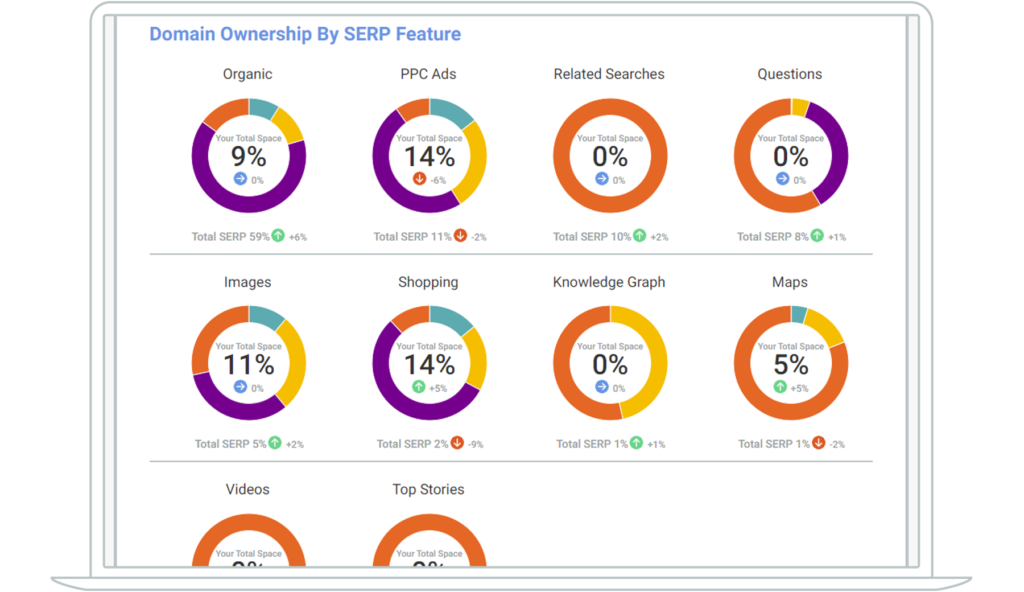 Why the visualisation helps your search strategy
To explain why visualisation of SERPs should be important to your portfolio of search tools, let's look at a few scenarios and consider how we might solve them.
Focus on paid instead of organic
As indicated earlier in this blog, anyone can pay to be on page one. Buy Ads and appear on page one so long as you've got the right money. If you identified that a SERP for a keyword was 70% paid listings, would there be any point attempting SEO on that keyword? It'd likely be ineffective. So for that keyword you'd focus on paid, just like your competitors.
Richer content
Let's say a SERP for an informational search term shows that a video takes up a large piece of real estate at the top of page one. Improving your organic rank is not likely to shift that video from prime position. But concentrating content efforts on high quality videos and improving your YouTube presence could displace the existing video.
Identify reasons for drop in click through rate
In another scenario, let's say your organic ranking for a keyword is position one and that's been stable for a few months, but you've noticed your click through rate has dropped. It might take some time to pore over analysis from other tools to find out why. But in just a few minutes with SERPsketch, you can see the changes over time and identify what on the SERP might be distracting prospects over time that might be affecting CTR. Perhaps other features are dominating the SERP and pushing organic results further down the page.
Managing your reseller/partner relationships
Let's say you're a vacuum cleaner brand and you're selling your appliances both directly via your website, but also through partners like John Lewis or Currys. Using SERPsketch, you can identify whether you and your partners are competing for the same terms, either in paid or organic, and take steps to ensure you're not wasting your budgets. You might also discover that your partners are bidding on your brand keywords, but the destination page is to a competitor product. Then that's an altogether different conversation you need to be having!
New market entrants
A new market entrant might aggressively target page one feature space to rapidly grow their new product. By using SERPsketch and tracking SERPs over time, you can quickly and easily identify new market entrants and learn where they are focusing their efforts.
The SERPsketch difference
In all of the above scenarios, existing SEO tools won't tell you where on the page the SERP features sit,  alongside the actual percentage of space they are taking up. The latter is incredibly important to your planning. You don't want to be investing all of your efforts in securing organic position 1 and nothing else if you find that organic results make up a small amount of space on a SERP. You should look to win other other features too so that your brand dominates the space and you maximise your exposure to prospective customers. This will be even more important when SERP space becomes smaller for organic results with the advent of Google's generative AI search.
More than just visualisation
SERPsketch isn't just about visualisation. It provides you more detail than other tools when it comes to related searches and questions.
Both sections not only give you the terms used but also the frequency that they've appeared in a SERP so you can focus on answering questions that appear more often than those that rarely appear. You can also use the information to:
Build new topic clusters based on relevant search terms
Learn the long tail keywords that are easier to rank for and help you build relevancy around the more competitive key terms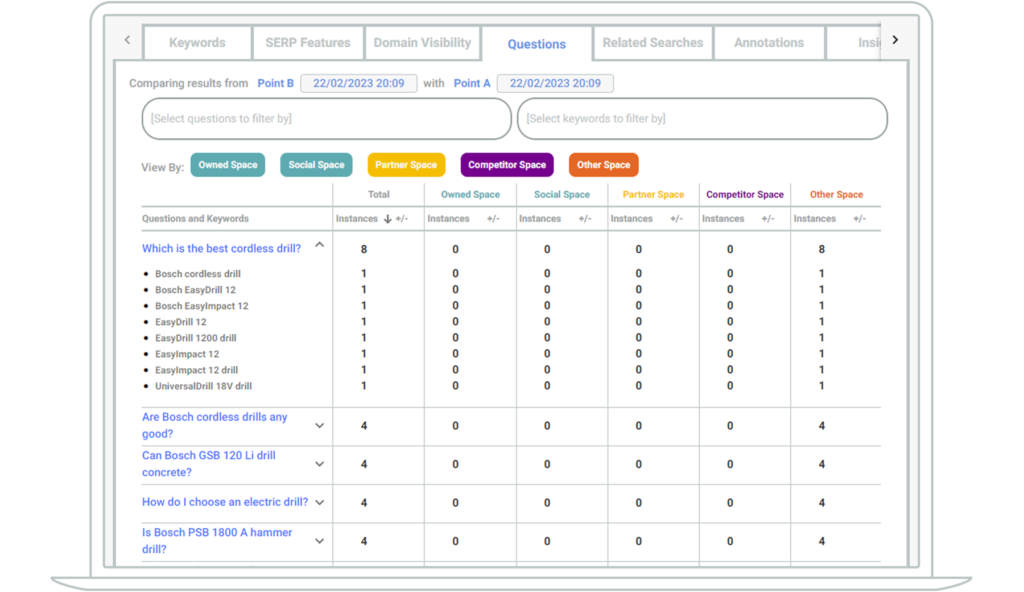 It doesn't take long to get insights from SERPsketch. It takes as little as ten minutes – import your keywords and add the relevant domains – to start seeing results that you can act upon. Your aim doesn't have to be reaching the top organic spot, but rather focus on dominating the range of SERP features that Google uses for your keywords.
You can try SERPsketch free for a month. No credit card details required.